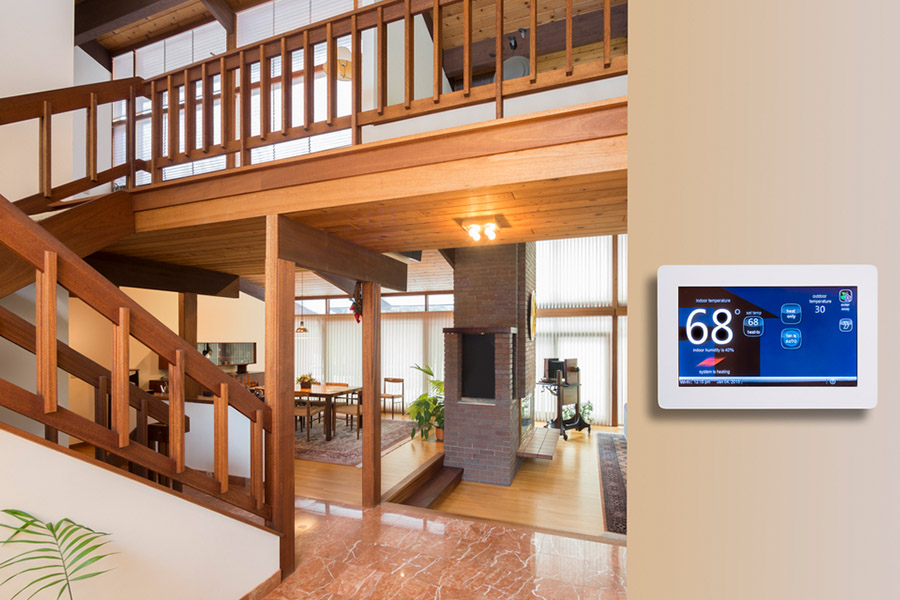 Why Install A Smart Thermostat In Brownsville?
Modern smart thermostats have progressed well past the point of being just a simple dial or switch for controlling your temperature settings. If you want to install a smart thermostat in Brownsville, you stand to enjoy a wealth of comfort with far less hassle. Featuring easy Wi-Fi access, multi-room sensors, and the convenience of home automation, these remarkable devices will help lower energy expenses and enhance your property's comfort and security.
What Are Smart Thermostats In Brownsville?
After your install a, your new smart thermostat will run in a similar manner as the old version in terms of core functionality. The design will likely be more contemporary, but you'll have the same ability to view the current temperature. You'll still have the chance to increase or decrease the temperature right from the component, and your thermostat still offers the ability to quickly adjust settings for fan, heat, and cool.
However, when you install a smart thermostat in Brownsville, you'll get a wide array of new options. The reason for this is that your home's comfort control is wirelessly linked into a larger system, like an AI assistant or home security system. Through the use of a smart control panel or mobile app, you can set your smart thermostat to adjust your home's temperature settings automatically at different times of day or to respond to input from another device. In the end you have a property that's more comfortable and energy-efficient.
Why You Should Install A Smart Thermostat in Brownsville
There are various incentives for upgrading your old device to a smart thermostat:
● Simple management with a cell phone app. You can direct the thermostat from a distance with a smartphone app such as the easy-to-use option from ADT. Are you feeling a bit overheated as you're trying to sleep? Simply grab your smartphone and turn on the air while staying in bed. Or monitor your house's temperature on your beach vacation, and adjust the settings to reduce energy usage if your house is empty.
● Set a schedule. Your smart thermostat allows you to implement smart schedules for your home's comfort. Arrange multiple temperature changes to accommodate your family's needs. Reduce the heat for bedtime, then increase it in the morning an hour or so before you wake up. Or create different scenes for specific occasions -- for example a scene for when you're having guests over or another for when the fireplace is being used.
● Save energy through automation. An incredible advantage of using smart thermostats is they save money on your heating and cooling bill. You are able to easily adjust the temperature as needed in regards to the season, weather, or your normal daily routine. There's no need to spend excess energy cooling and heating an empty house. And when you set schedules, your thermostat adjusts itself. Many utility services are known to provide special savings and rebates on select models.
● Make use of voice activation to direct your property. If you decide to install a smart thermostat in Brownsville, you also have the opportunity to hook it up to work with a Google or Amazon AI assistant. This gives you the ability to manipulate the temperature without even using your hands.
● Join your thermostat to various home automation devices. If your smart thermostat is integrated within a comprehensive home security system, you're able to link all your devices into an interactive group. This helps protect your property from environmental emergencies. For instance, you can set your thermostat to engage the ventilation fan when your fire alarm goes off.
Make The Switch To A Smart Thermostat In Brownsville Today
When your current thermostat doesn't meet your energy reduction and comfort demands, it's time to upgrade to an innovative "smart" model. These wirelessly connected components are stylish, a cinch to control, and can save money over the long haul. You stand to reap the most benefit when you link it with an advanced home security system. Contact us today at (956) 291-4473 or complete the following form to inquire about your smart thermostat.
Areas Served Around Brownsville By Secure24 Your Local ADT Authorized Dealer